2020 WOOD BAT CLASSIC
July 3-6, 2020
Senior: $600
Junior: $600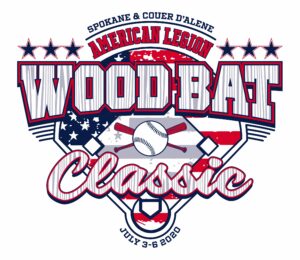 Full Payment due at time of registration (registration link at bottom of page)
July 3-6, 2020
Wood Bat Classic Online Store
2020 Wood Bat Hotel Options (Please book through RoomRoster Software)
There is NO BANQUET this year the night before the tournament
This tournament will not provide wood bats to teams
Spokane & Coeur D' Alene American Legion has partnered with Event Connect by RoomRoster for all aspects of tournament management for the Wood Bat Classic. The Event Connect by RoomRoster Event Support System is a convenient online web and mobile application built to handle registration, hotel accommodations for travel teams along with scoring and scheduling.
Upon registration, a Team Profile is created for each team in the Event Connect by RoomRoster Event Support System. Team Managers seeking hotel accommodations can request any hotel of their choice to book through the Team Profile. Once the hotel is contracted and ready for booking, a link will be sent to the Team Manager to forward to all team members in order for them to reserve their room from the block created by the Team Manager.
For teams looking for help blocking rooms.
e-mail teamsupport@eventconnect.io
For general inquiries and reservation support please contact
1-888-723-2064 or by email via support@eventconnect.io
Best of luck at the tournament!